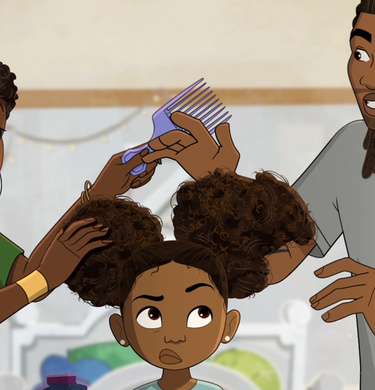 Coming to Max September 21
The all-new animated series "Young Love" expands on the family introduced in the Academy Award®-winning short film, "Hair Love." Filled with comedy and heart, Young Love is an honest look into the world of the Young family – including millennial parents Stephen and Angela, their daughter Zuri and her pet cat Rocky – as they juggle their careers, marriage, parenthood, social issues, and multi-generational dynamics all while striving to make a better life for themselves.
"Young Love" is created by Matthew A. Cherry, who will executive produce and showrun with long-time animation creative Carl Jones (The Boondocks, Black Dynamite). The series will be executive produced by Karen Rupert Toliver and Blue Key Entertainment's Monica A. Young along with Lion Forge Animation's David Steward II and Carl Reed.
Cast: Scott "Kid Cudi" Mescudi, Issa Rae, Loretta Devine, Harry Lennix, Tamar Braxton and Brooke Conaway.
video gallery