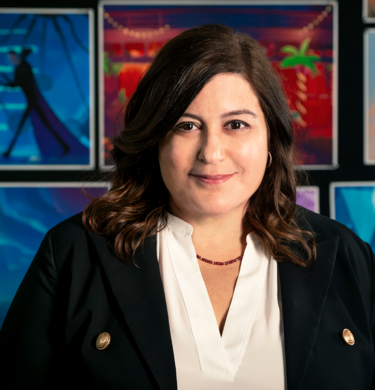 MICHELLE RAIMO KOUYATE
Producer
Michelle Raimo Kouyate most recently produced "The Emoji Movie" for Sony Pictures Animation; the first project announced under the first-look producing deal she entered with Sony Pictures Entertainment in 2015.
Raimo Kouyate previously held the position of president of production for Sony Pictures Animation and was responsible for overseeing the development and production of all films on the Sony Pictures Animation slate. Under Raimo Kouyate, the animation studio released the monster comedy hit "Hotel Transylvania" directed by 3-time Emmy® winner Genndy Tartakovsky, as well as the 2013 blockbuster family comedies "The Smurfs 2" and "Cloudy with a Chance of Meatballs 2."
In December 2010, Raimo Kouyate joined Sony Pictures Animation from DreamWorks Animation where she had spent the previous three years serving as executive producer for the Academy Award® nominated animated feature film, "Puss in Boots."
Her career in the film business began 18 years ago when she joined Miramax Films. From 1995 to 2005, Raimo Kouyate rose through the development and production ranks from an assistant to senior vice president of development and production. During her tenure at the studio, Raimo Kouyate was responsible for executive producing and overseeing the development and production of numerous feature film projects, including the Academy Award nominated "Chocolat." In addition, Raimo Kouyate developed and executive produced The Weinstein Company's David O. Russell movie, "Silver Linings Playbook," which received 8 Academy Award® nominations as well as the Toronto International Film Festival's People's Choice Award
In 2005, Raimo Kouyate relocated from New York to Los Angeles to work as senior vice president of production at Paramount Pictures, where she was responsible for overseeing the acquisition, development and production of feature film projects as well as supervising Paramount's New York book office. In early 2006, she moved over to Nickelodeon Movies in the same capacity until the end of 2006.
Raimo Kouyate grew up in New York City, received her B.S. from St. John's University and her M.F.A. from The Peter Stark Program at USC School of Cinema.