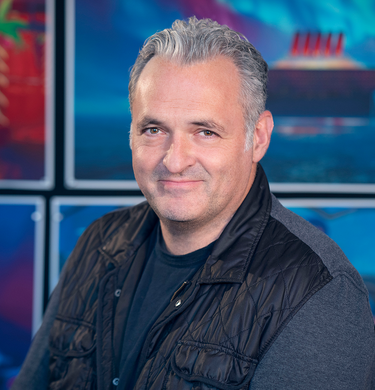 GENNDY TARTAKOVSKY
Director
Award-winning animation visionary Genndy Tartakovsky most recently executive produced Sony Pictures Animation's adventure comedy "Hotel Transylvania: Transformania," based on a screenplay written by him.
Tartakovsky is also set to direct two original animated features for Sony Pictures Animation: R-rated comedy "Fixed" and action-adventure "Black Knight."
Tartakovsky made his feature film directorial debut in 2012 with Sony Pictures Animation's monster box office smash and Golden Globe® nominee, "Hotel Transylvania," and went on to direct the sequels "Hotel Transylvania 2" and "Hotel Transylvania 3: Summer Vacation," as well as spin-off short films "Puppy!" and "Goodnight Mr. Foot."
A 20-year veteran of the art, Tartakovsky has received an impressive 15 Primetime Emmy® Award nominations and been awarded three Emmys for work on the series "Star Wars: Clone Wars" and "Samurai Jack," both for Cartoon Network. Named one of Variety's "50 to Watch" as a future leader in the entertainment industry, Tartakovsky has been called "one of the industry's rising stars" by People magazine and has been tapped as one of the most creative people in entertainment when he was named to Entertainment Weekly's "It List." He is also the recipient of the prestigious Winsor McCay Award in recognition for outstanding career contributions to the art of animation.
Tartakovsky's creative leadership helped shape the direction and the rise to national prominence of the Cartoon Network, where he developed four hit animated series between 1994 and 2010: "Dexter's Laboratory," "Samurai Jack," "Star Wars: Clone Wars," and "Sym-Biotic Titan." He created the critically acclaimed "Samurai Jack" as a follow-up project to the massive success of "Dexter's Laboratory," his first professional cartoon creation, on which he served as creator/writer/director. "Samurai Jack" originated from his desire to create the best action-adventure cartoon ever—and the result was an animated action television show that is cinematic in scope and that incorporates action, humor and intricate artistry. A two-time juried Primetime Emmy Award winner for layout and production design, "Samurai Jack" is a perennial critic and audience favorite.
Tartakovsky was hand-selected by George Lucas and Lucasfilm Ltd. in 2003 to create "Star Wars: Clone Wars," a one-of-a-kind 20-episode "microseries" that continued the saga where the live-action feature film "Star Wars: Episode II Attack of the Clones" left off. His cartoon creation—the first-ever animated property involving the leading Star Wars characters—covered the beginning of the Clone Wars, an epic civil war that pitted the old Republic against a vast separatist movement led by the forces of evil.
Tartakovsky is also the creator/director for the series "Sym-Bionic Titan," which debuted on the Cartoon Network in September 2010. "Sym-Biotic Titan" is the third animated series that Tartakovsky has created in partnership with Cartoon Network, after "Dexter's Laboratory" and "Samurai Jack."
Additionally, Tartakovsky served as a producer and director on Cartoon Network's Emmy Award-winning series "The Powerpuff Girls" and as an animation director for "The Powerpuff Girls: The Movie." He is also co-creator of the Network's "Dial M for Monkey" and "Justice Friends."
In addition to his success in television production, Tartakovsky has also been acclaimed internationally at film festivals – winning top honors at Ottawa, Annecy and Cartoons on the Bay. He started Orphanage Animation Studios in 2005, where he has directed numerous well-known commercial spots and was instrumental in conceptualizing and storyboarding the final action sequence on Paramount Pictures' summer 2010 blockbuster film "Iron Man 2."
Tartakovsky was born and raised in Moscow, Russia ("I'm still fluent in Russian, but it gets a little worse every year!" Tartakovsky admits jokingly). His family first moved to Italy before coming to the United States, first in Columbus, OH when he was seven years old then Chicago, IL two years later. After high school, Tartakovsky studied film at Chicago's Columbia College before moving to Los Angeles to study animation at California Institute of the Arts (CalArts). At CalArts he wrote, directed, produced and animated two student films. One of his student films, which was selected for the CalArts Producers Show, was the basis for "Dexter's Laboratory."