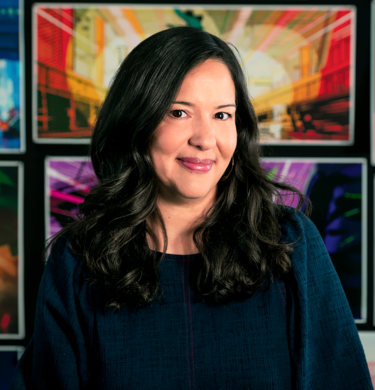 BECKY CHAIRES
Senior Vice President, Marketing
Becky Chaires has led the marketing group at Sony Pictures Animation from its inception, and continues to steer the team in her current role as senior vice president.
While in this position, Chaires has worked on campaigns for "Open Season," the Academy Award®-nominated "Surf's Up," "Cloudy with A Chance of Meatballs 1 & 2," "The Smurfs 1 & 2," "The Star," "The Emoji Movie," "Smurfs: The Lost Village," and "Hotel Transylvania 1, 2 and 3."
Most recently, Chaires worked on the marketing efforts for the groundbreaking film, "Spider-Man: Into the Spider-Verse," which won the Academy Award® for Best Animated Feature.
Prior to joining Sony Pictures Animation, Chaires served as marketing consultant to Sony Pictures Entertainment on the live action film, "Spider-Man 2." Her responsibilities included liaising between the filmmakers and all of Sony Pictures' marketing divisions, overseeing filmmaker approvals for worldwide consumer products, promotional partners, publicity, home entertainment and other related efforts.
Chaires joined Sony Pictures Entertainment from DreamWorks International Home Video, where she was the London-based director of international publicity working on campaigns for movies like the Oscar®-winning "Shrek" and "Spirit: Stallion of the Cimarron." Her responsibilities encompassed all aspects of managing the publicity campaigns for the studio's sell-through releases.
Previously, Chaires was one of the first members of the DreamWorks publicity department, rising to senior broadcast publicist. While there, she hired and supervised unit publicists for "Amistad," "Saving Private Ryan," "American Beauty," "Galaxy Quest," "Gladiator," "What Lies Beneath," "Almost Famous" and many more. Often working directly with talent, she also developed and launched long-range publicity and marketing campaigns, including specialty markets and producing electronic press kits and video news releases.
Chaires began her career as a production assistant at Amblin Entertainment, which led to her working on "Jurassic Park" as assistant to associate producer Lata Ryan and subsequently becoming executive assistant to Amblin's head of marketing, Marvin Levy. In that position, she coordinated television and print interviews for Steven Spielberg and worked on publicity campaigns for films including "Schindler's List" and "Twister."