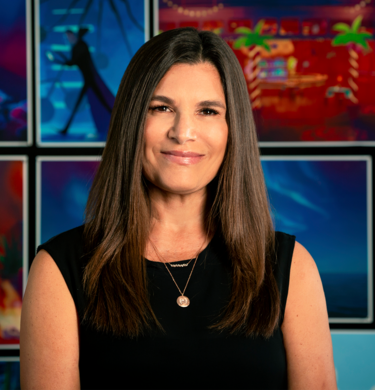 MICHELLE MURDOCCA
Producer
Michelle Murdocca most recently executive produced Sony Pictures Animation's adventure comedy "Hotel Transylvania: Transformania."
Murdocca served as producer on each previous installment of the "Hotel Transylvania" franchise, as well as the spin-off shorts "Puppy!" and "Goodnight Mr. Foot."
Murdocca has been with Sony Pictures Animation since its formation in May of 2002, when she served as vice president of production. In that capacity, she was responsible for overseeing all aspects of production and crewing.
She segued into a producer role and served as producer for the company's first feature, "Open Season," as well as lending her vocal talents to the film's spunky skunk, Maria. Subsequently, she produced the division's short film, "Midnight Bun Run," and executive produced "Open Season 2."
Prior to joining Sony Pictures Animation, Murdocca was a senior visual effects producer for sister company Sony Pictures Imageworks. She joined Imageworks in 1998, where she worked on the Academy Award®-nominated "Stuart Little." She then went on to become the associate producer and senior visual effects producer on the sequel, "Stuart Little 2" that was honored with the Visual Effects Society Award for Best Character Animation in an Animated Film.
Murdocca has over ten years of visual effects production credits. In 1997, she served as a visual effects producer on Wolfgang Peterson's "Air Force One." In 1996, Murdocca joined VIFX (now Rhythm & Hues) as an executive producer for digital imaging. She oversaw production on the visual effects of "The Relic" and "Switchback" and pre-produced "Volcano," "Jingle All the Way," and the television miniseries "The Shining." During her tenure at Boss Film Studios, Murdocca was instrumental in building their visual effects department from 10 to 100 artists and in the process received digital effects production manager credits on "Species," "Multiplicity," "Outbreak," "True Lies," and "Drop Zone." She began her career in 1988 at Videocraft Film & Tape in Boston, where she produced commercials, documentaries, industrials and corporate videos.
Originally from New City, New York, Murdocca is a graduate of Roger Williams University in Bristol, Rhode Island and holds a degree in psychology.