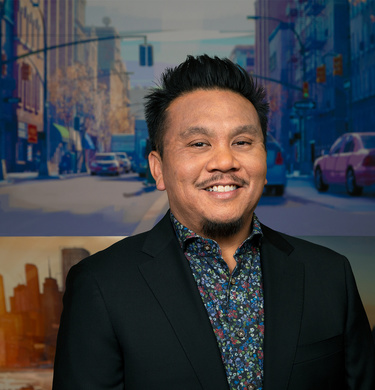 KEVIN NOEL
Senior Vice President, Creative
As senior vice president of creative for Sony Pictures Animation, Kevin Noel is responsible for helping shepherd both feature and series projects through the creative and production pipelines, from development, through pre-production, production, and post.

In addition to his executive duties, Noel also serves as Executive Producer on Sony Pictures Animation's first-ever adult animated series, "Agent Elvis," coming to Netflix in March 2023.

Noel was one of the first staff members at Sony Pictures Animation as the assistant to the producers of the studio's first CG feature, "Open Season." He followed that by working in various production roles on films for both Sony Pictures Animation and Sony Pictures Imageworks. Some of his credits include titles in the "Hotel Transylvania," "Cloudy with a Chance of Meatballs," and the "Smurfs" series.

After a stint at Mattel where he produced original content for some of the toy giant's most lucrative brands, Noel returned to Sony Pictures Animation in 2016 in a new role as a studio executive.

Noel began his career as an executive assistant at the management and production company 3 Arts Entertainment. He is a graduate of San Francisco State University with a degree in Cinema.