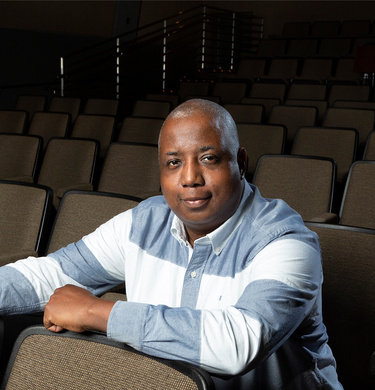 Kemp Powers is a director of Sony Pictures Animation's "Spider-Man: Across the Spider-Verse." Alongside his fellow directors, Joaquim Dos Santos and Justin K. Thompson, the trio helmed the highly-anticipated sequel to "Spider-Man: Into the Spider-Verse," which received the Academy Award® for Best Animated Feature in 2019.

Powers is a Golden Globe®-winning and Academy Award®-nominated screenwriter, playwright, producer and director who was named one of Variety's 2020 "10 Screenwriters to Watch." He is currently working on two separate features for Netflix - "Ireedeemable," with Jeymes Samuels directing and Jay-Z, Samuels, and James Lassiter producing, is based on the comic series Irredeemable and Incorruptible by Mark Waid and illustrated by Peter Krause; and "Eloquent," with Higher Ground producing, is based on David W. Blight's Pulitzer Prize-winning biography Frederick Douglass: Prophet of Freedom.

Powers also co-wrote and co-directed the Oscar-winning "Soul" for Pixar Animation Studios. The film won two Golden Globes for Best Motion Picture - Animated and Best Original Score - Motion Picture. Additionally, "Soul" won two Academy Awards for Best Animated Feature Film and Best Original Score. The film was also nominated for the Academy Award for Best Sound.

In television, Powers previously wrote for the popular CBS All Access series, "Star Trek: Discovery." His stage plays include "One Night in Miami...," "Little Black Shadows," "Christa McAuliffe's Eyes Were Blue," "The Two Reds" and "A Negro by Choice." He received the 2013 Ted Schmitt Award for Outstanding New Play for the world premiere of "One Night in Miami..." in Los Angeles. That production also won three LA Drama Critics Circle Awards and four NAACP Theatre Awards. "One Night's" 2016 production at London's Donmar Warehouse earned Powers an Olivier Award nomination for Best New Play. Kemp's upcoming stage play, "The XIXth" (The Nineteenth) premieres at The Old Globe in San Diego, March 2023.

Prior to his work in stage, television and film, Powers was a journalist for 17 years.