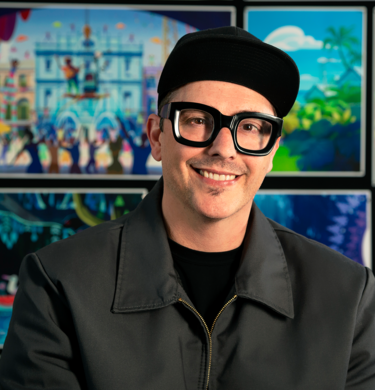 JOE MOSHIER
Character Art Director
Joe Moshier is the character art director on Sony Pictures Animation's original animated musical "Vivo," which features brand new songs from Lin-Manuel Miranda, the creative force behind the Broadway smash "Hamilton." In his role, Moshier designs the film's main characters and creates the overall look and style of all characters.
Prior to joining Sony Pictures Animation, Moshier served as a lead character designer at DreamWorks Animation for features such as "Boss Baby," "How to Train Your Dragon 2," "The Croods," "Mr. Peabody & Sherman," and "Penguins of Madagascar," and at Walt Disney Animation Studios on films such as "Bolt," "Meet the Robinsons," and Chicken Little." At Disney, he also worked on classics including "The Emperor's New Groove," "Hercules," and "The Hunchback of Notre Dame." 
Moshier was born and raised in San Diego, California (Go Padres!). He knew he wanted to work in animation from a young age after having grown up admiring his Nonna's paintings hung on the walls throughout his grandparent's house – his passion was solidified when his parents brought home the book "Animation" by Preston Blair, which he studied cover to cover.
Moshier attended The California Institute of the Arts and studied character animation. He currently lives in Tarzana, California with his wife, daughter, and their several pets including three dogs, an African dwarf frog, and a fish. His dog Charlie's bark can be heard as the puppy in Disney's "Bolt.