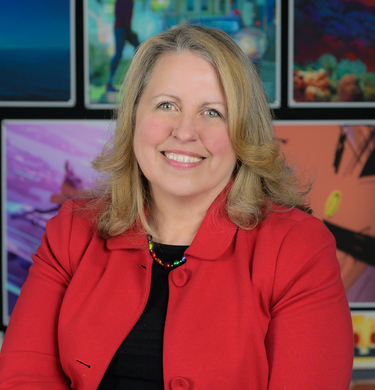 THERESA BENTZ
Co-Producer
Theresa Bentz is a co-producer at Sony Pictures Animation. In her role, Bentz oversees the crewing and scheduling for each given department in production, and ensures that the creative leads are able to remain true to their vision while staying within the film's overall timeline and budget until release.
Bentz most recently co-produced Sony Pictures Animation's Academy Award®-winning feature film "Spider-Man™: Into the Spider-Verse."
Bentz joined Sony Pictures Animation in 2004, and has worked in various production manager roles, including as line producer on "The Emoji Movie," production manager on "Smurfs: The Lost Village" and "Arthur Christmas," digital production manager on "Cloudy with a Chance of Meatballs," and associate production manager of editorial on "Surf's Up."
Prior to joining Sony Pictures Animation, Bentz worked at Walt Disney Animation for 10 years, and was a production stage manager at two historic Los Angeles theatres, the Pasadena Playhouse and Mark Taper Forum.
Bentz was born and raised in Lemon Grove, a suburb of San Diego. She is a graduate from UC Irvine Theater Arts, and currently resides in Glendale with her two cats, Millie and Vanilli. She enjoys traveling and concert-going, her favorite band being Led Zeppelin, which she's seen live twice.